RECENT LAB NEWS
Welcome Nina Schoener!
August 6th, 2021
Welcome to ComDev Lab's new Lab Manager Nina Schoener! Nina comes to the lab with a degree in Cognitive and Behavioral Neuroscience from the University of California San Diego. During her time at UCSD, Nina worked in the Language and Development Lab with Dr. David Barner on number acquisition and bilingualism. Nina is excited to continue to pursue her interests in language and conceptual development during her time at the ComDev Lab. Welcome Nina!
Bon Voyage Miranda Long!
August 5th, 2021
Farewell to Miranda Long, who has been one of the ComDev lab's managers for the past two years. Miranda led the lab's corpus analyses and cross-situational word learning projects. Miranda also helped the lab navigate the COVID-19 pandemic. Miranda will be starting a graduate program at the University of British Columbia's Centre for Cognitive Development. Thank you for all that you did Miranda, congratulations, and we wish you all the best at UBC!
Congratulations Audra Logan!
August 2nd, 2021
We wish all the best to recent graduate and Head Research Assistant Audra Logan! Audra has been a dedicated member of the ComDev Lab since Fall 2019, and will now move on to a graduate program at Southern Connecticut State University to pursue her M.S. in Communication Sciences and Disorders. Thank you for all your hard work Audra!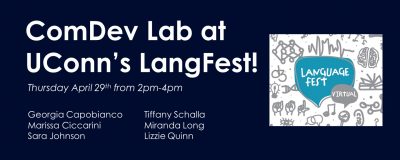 Comdev Lab at UConn's LangFest!
April 27th, 2021
We will be presenting at UConn's LangFest from 2pm-4pm on April 29th, 2021. Hear about all our various research projects during both the Data Blitz and poster sessions.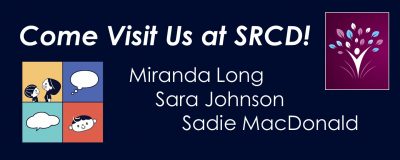 Come Visit Us at SRCD!
April 1st, 2021
Come see us at this year's Society for Research in Child Development (SRCD) conference from April 7th-9th, 2021. Congrats to Miranda, Sara, Sadie, and their teams on getting their work accepted this year!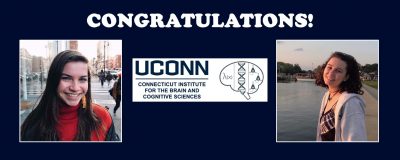 Congratulations Lizzie and Audra!
February 1st, 2021
Big Congratulations are in order for Lizzie Quinn and Audra Logan on receiving CT-IBACS Undergrad Research Grants, and to Audra Logan for also receiving a Psychological Sciences Undergraduate Research Grant. Way to go Lizzie and Audra – what an accomplishment!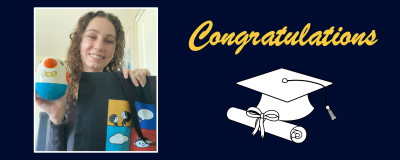 Farewell Lizzie Quinn.
December 8th, 2020
Congratulations, Lizzie Quinn, on graduating from the University of Connecticut! Lizzie spent the last 2 years working on the Cross-Situational Word Learning research project and helped lead the group in investigating various cues present in infant's input and how they may aid in word learning. Thank you, Lizzie, for all you hard work!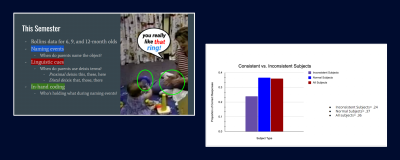 Finishing the Semester Strong!
November 19th, 2020
The Communication and Development Lab gathered virtually to celebrate the end of a very successful semester. Eli, Yuxin, Georgia, Marissa, and Julie-Ann shared their work with the lab and discussed next steps for their projects. Way to finish the semester strong!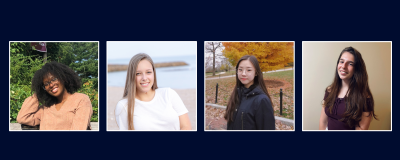 Welcome New Lab Members!
August 31, 2020
The Communication and Development Lab welcomes the lab's new RAs: Georgia Capobianco, Marissa Ciccarini, Julie-Ann Williams, and Yuxin Zhou!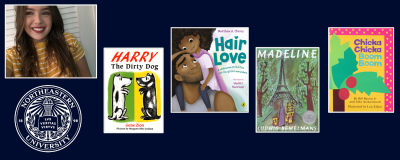 Bon Voyage Sadie MacDonald!
August 21, 2020
After two years in our lab, Head RA Sadie Macdonald is headed off to graduate school at Northeastern University. Sadie was instrumental in getting the lab's picture book studies off the ground and in many of the lab's day-to-day operations (and in keeping the lab plants alive!). Thank you Sadie and we wish you all the best at Northeastern!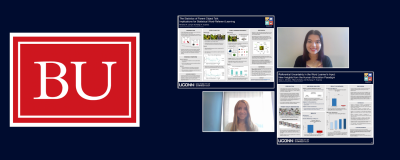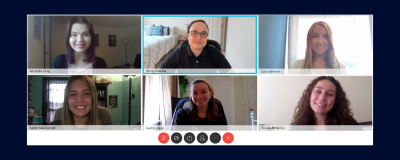 Staying Connected via Virtual Lab Meetings!
July 17, 2020
Although we must practice social distancing this summer, the Communication and Development still manages to meet and collaborate on a regular basis virtually. Every week, we meet and share project updates, give each other feedback, and discuss new project directions.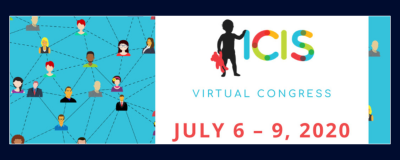 We will be at ICIS!
June 29, 2020
Stop by our virtual booths at this year's International Congress of Infant Studies (ICIS) and see what new and exciting research we have been conducting! Our lab managers, Miranda Long and Sara Johnson, will presenting their work on cross-situational word learning the the human simulation paradigm.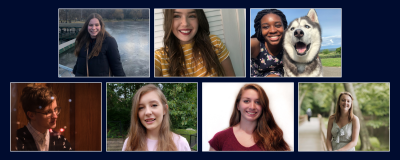 Congratulations to our Graduating Seniors!
May 21, 2020
Congratulations to Sadie MacDonald, Brianna Kinnie, Zoe Green, Clare Collins, Tiffany Schalla, Katharine Ustorf and Avery Miller for completing their undergraduate degrees.